12 Aug 2019
Admitad Extension. Lite and PRO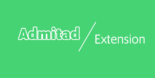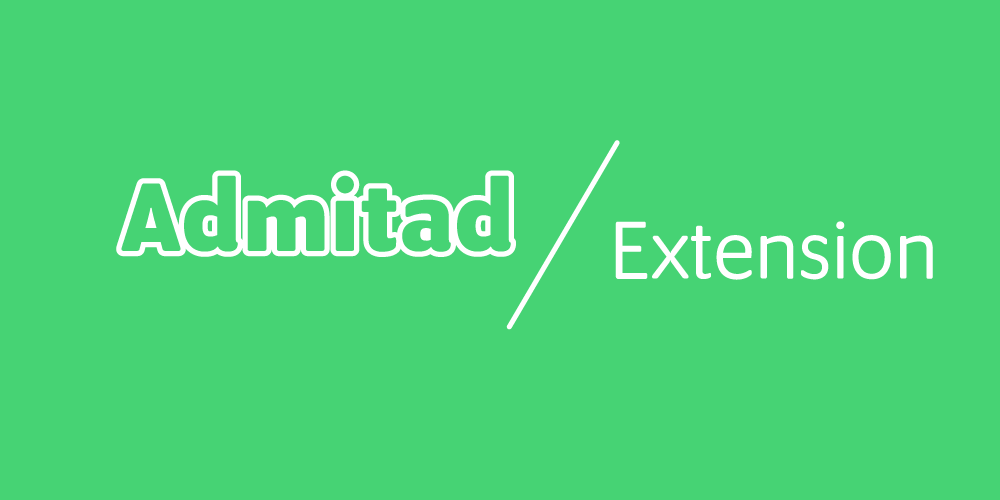 ---
Admitad has recently updated the Chrome extension. Now two versions of this tool are available: Lite and PRO. In this article we explain how to use each of them and how to choose the most relevant to your level.
---
Contents of the article:
Attention !!! If you have already installed Admitad Extension (the old version), it will be updated automatically. If you haven't installed it yet, keep in mind that it is available only in Chrome. Link to download it from Chrome web store.
---
What is Admitad Extension?
---
Browser extension is a program/tool that adds new functionality to the browser (for instance, Chrome) which you use to search for any data on the Internet There are various types of extensions, for example, Adblock to block advertisement banners, or Grammarly which helps you not to skip any typos while writing a text, and others. Basically, apart from just surfing the Internet, you get additional functions.
The first version of Admitad Extension was released around 4 years ago. Its main purpose is to provide publishers with an opportunity to open a website of any online store which is joined to the affiliate network Admitad and to be able to create an affiliate link in a single click (deeplinks to certain pages). Then publishers can share this link with their friends or subscribers, drive traffic and get rewards for each purchase made via this link.
The extension simplifies the work of publishers who have to work with many links or compare products of different advertisers. Now, let's imagine that an advertiser needs to create an affiliate link:
Without extension
With extension
1. A publisher opens a website of an advertiser
2. Copies a link to a product
3. Opens personal account on admitad.com
4. Opens the tab «Tools» — «Deeplink generator»
5. Selects an ad space and a program which he/she has already added
6. Inserts the copied link in the field «The list of links to generate Deeplinks»
7. Presses the button «Generate» and gets an affiliate link to a certain page
1. A publisher opens a needed page on the website of an advertiser
2. Clicks on the icon of the extension in the browser (purple icon AD in the right top corner)
3. In the opened window he/she selects an ad space which he/she will use to promote the products. An affiliate l ink is generated automatically and a publisher can copy and share it
Apart from a possibility to generate a deeplink the extension provides an opportunity to add SubID tags (in order to track their effectiveness in the reports later). Besides, you will be able to see all coupons and promo codes on the website of the advertiser (this function is being developed).
New Admitad Extension — new functionality and tools. Moreover, now this tool is divided into two versions: Lite and PRO. Each helps solve different tasks. Let's review what's new in this tool and how both experienced publishers and beginners can work with it.
---
How to add Admitad Extension
---
If you have already installed Admitad Extension (old version), it will be automatically updated. If you haven't installed it yet, keep in mind that it is available only in Chrome. In the near future, the extension will be released for Opera and Mozilla Firefox.
This is how we can add the extension:
The extension is installed, now we can check how both versions (Lite and Pro) work and how publishers can use them. Lite was created especially for beginners in order to make their start in CPA-marketing easier. However, experienced publishers can find it useful as well.
---
Admitad Extension Lite for beginners
---
Lite version is a perfect tool for beginners. It includes all basic functions which help them overcome the hurdles of entering the market (ad space creation, moderation) and, moreover, it provides an opportunity to start earning online.
In the video above you have also learn how to sign up and how to create an affiliate link. Now we can start earning. Open a new tab and search for any product you want. Then visit an advertiser's website, open extension, copy the already created link and share it. That's it.
Who pays the reward and why? For those who don't know what affiliate marketing is we are going to explain it shortly: an advertiser (online stores or online services) adds a small advertising budget to the cost of a product — usually, it is a percentage of the purchase amount. This added sum is the amount of reward which they are ready to pay to each publisher who attracts real customers. If you want to learn more on how affiliate networks work, check out our article "Affiliate network for beginners: what it is and how to make money through it".
Why do we say that Lite version is perfect for beginners? Because it solves the issues which might scare and discourage beginners from starting earning through CPA marketing:
Simple sign up process. Select login, name, email and language (as simple as on any social networks) and that's it, you are already a publisher of Admitad. No need in choosing an ad space or confirming ownership as well as traffic volume doesn't matter as you only start your work.
No moderation when joining a program. It concerns many beginners as if moderation by hands is setup, it is impossible to promote an advertiser as long as the brand doesn't approve your application. Such advertisers don't provide affiliate links unless they approve application. Extension lite provides an opportunity to generate affiliate links on any website which is marked with the icon AD, then you can share it and monitor the results.
Products of famous brands. We offer you to share the links to the products of online stores from where you buy yourself — popular hypermarkets, stores, services, mobile apps and other companies. Admitad works only with the companies which provide high-quality products.
---
Lifehack: think of a shop where you bought some product the last time, then add the extension and check if this store works with Admitad.
---
Who will find Admitad Extension Lite useful:
Those who only start thinking about earning online. You don't need to buy and then resell anything, you can find all the necessary information without any difficulties on the Internet and on Admitad Academy website. Just share the link with your friend and get the percentage of the order amount if he/she buys anything. Or if you share the link with many people, for example, on your public page on Facebook, you'll get the reward for several orders which your subscribers made. Only you decide how much time and money (optionally) you can invest in your source of income. But we can give you a piece of advice — the more time you invest in your project, the more sales you can drive.
For beginning bloggers and micro-/macro-influencers. Your subscribers want to know which brands you wear, which hotels you use when you travel, and where you eat. Anyway, yo u share this information with them, but you can also earn from promoting the brands and driving customers. Copy the link to the online stores from where you buy and add them to the posts and that's it.
For public page/community/group and Telegram channels owners. Make your channel even more useful for the subscribers — share the links to cool and high-quality products at discounts.
For very communicative people. Forums, comments on social networks and so on… Do you know the best suppliers in China? Or do you know where to find the rare goods? Share your knowledge with people on the Internet, help them to find information.
Add Admitad Extension, generate links, grow your income and achieve the PRO level:)
---
Admitad Extension Lite for experienced publishers
---
If you are experienced in affiliate marketing and you know well what the words "affiliate program", "advertiser", "commission", "hold" mean, then we suggest you reviewing the Lite version as it provides an opportunity to join more offers. For the publishers who understand how CPA marketing works (or have already achieved levels AD0, AD1 and AD2), Lite-version provides the following opportunity:
More offers. Apart from 1700+ affiliate programs which publishers can join in Admitad, you get access to 30 000 advertisers and 60 000 affiliate programs. Admitad becomes a single aggregator of many affiliate programs which used to be unavailable for publishers.
Cooperation with the affiliate programs which used to be unavailable. For example, in the past, an advertiser could decline your application because your ad space didn't have enough traffic, but now Extension Lite made it possible not to undergo moderation (providing that you use only allowed traffic sources).
Enter foreign markets. The majority of Lite affiliate programs are advertisers from all over the world and those publishers who like to work with traffic from different countries can take the opportunity and try new affiliate programs and regions.
Traffic isn't wasted. Admitad Extension Lite is an aggregator of profitable affiliate programs of affiliate networks from all over the world. Even if one channel stops working, Admitad will automatically redirect you to another one. No Dummy links from now on: if you generate a deeplink through the extension, they will work no matter what.
Having signed up, you are ready to look for new affiliate programs. Type in the name of the product in the query and check the search results: depending on if the advertiser works with Lite or PRO, there will be the corresponding icons (one or both). Let's choose a program which works with both versions and open the website of the advertiser and click on the extension icon.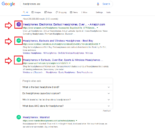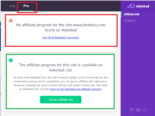 To start working with the Lite version, we recommend starting from searching the goods on Google. As a matter of fact, the whole Internet is one huge catalog of affiliate programs — and you just need to elaborate your strategy of searching the relevant programs. Check the top stores in the region, compare the affiliate programs, copy links and drive traffic to the best and most profitable affiliate programs.
If you have a publisher account in Admitad system, you automatically get an opportunity to work with Lite version (as well as PRO). If you have already worked with the old version of Admitad Extension, you won't have any issues with the new one. Now let's review the PRO version.
---
Admitad Extension PRO for experienced publishers
---
Basically, Admitad Extension PRO is an old Admitad Extension but with the new design.
To get the access to the PRO extension, you need to fill out the full registration form to sign up as a publisher in the Admitad system: specify your ad space and confirm the ownership and provide your contact information. Having done this, you get an opportunity to work with affiliate prog rams listed in the catalog of programs on Admitad. But, of course, you should join them (with moderation or without, depends on the program rules).
Here are video tutorials which can help you:
And we should work as we did before:
Find an affiliate program which you like (all PRO-affiliate programs are available in the Admitad catalog of programs).
Join the affiliate programs, pass the moderation if required.
Open the advertisers' website, then the page of a product which you want to promote.
Select the ad space with which you joined the program.
Generate Deeplinks and add SubIDs if you want.
Place the affiliate links on your ad space.
Profit!
As you can see the PRO version doesn't differ from the Lite one a lot in terms of features. The only (and important) difference is that you can work only with the ad space which you have indicated in your account (and which were approved by the advertisers with the help of moderation).
Advantages of working with Admitad Extension PRO:
You see the advertisers which work with Admitad right in the search results. They are labeled with the icon AD on the purple background. Did you accidentally open an online store and liked the products? Use extension to check if this brand works with Admitad.
Do you want to know more about an affiliate program? PRO-programs can always be found in the catalog of programs on Admitad. There you will be able to find more detailed information like allowed traffic sources, rate and additional information on regions, target audience, advantages of working with this advertiser and other conditions of cooperation.
You can find the key indicators of the program as well as coupons and deals of this affiliate program right on the page of the advertiser — without searching in the section "Tools" on Admitad.
You create an affiliate link to any pages of online stores and online services right in the extension. Moreover, you can add the SubID and they are automatically shortened with the help of fas.st service.
---
Toolbar
---
You can get affiliate links even faster using the toolbar — the new Admitad Extension feature, which became available to publishers since November 11, 2019. The toolbar appears at the bottom of the screen if you have already installed the extension and logged into it.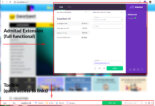 The advantage of the toolbar is that it automatically appears on any page of the website that works with Admitad via Lite or PRO mode. You do not need to click on the AD icon in the top corner of the browser each time to open the extension – that is one step less on the way to receiving an affiliate link.
Let's go through the main functions of the toolbar. In the Lite mode, available to all partners connected to Admitad, the publisher sees the following information:

Active mode (Lite or PRO) is highlighted in green.
Name of affiliate program (may vary depending on the active mode).
Average check. Shows how much on the average a customer spends on a single purchase on this website.
Average reward. Shows how much a publisher earns on this website on the average for one confirmed order.
Approval rate. The share of the total number of actions cited by all the publishers working with the offer, which are confirmed by the advertiser (in other words, it is also called the "approval rate").
Average processing time. During this time, the advertiser can evaluate the actions cited by the publisher and confirm or reject them.
Traffic source (Ad Space) selection field. Generate individual links for each of your traffic source.
Toolbar settings. In this section you can turn off the toolbar from being displayed on all pages of the website which you currently have opened.
Close toolbar. By clicking on this button, you close the toolbar for the page you are currently on. When you go to a new page or update the current one, it will open again.
Now let's look at the toolbar for PRO mode:

The fields of the active mode, toolbar settings and toolbar closing settings work the same way as in the Lite version. The remaining PRO parameters are taken from the Admitad affiliate program, to which the publisher is connected (unlike the Lite mode, which provides average indicators for several affiliate networks).
EPC. It shows how much on the average a publisher can earn with one hundred clicks (transitions via his affiliate link).
CR. Conversion rate, which reflects how many users out of those who clicked on the link has performed a target action (a purchase, for example).
Approval rate. Same as in the Lite version this parameter reflects the share of the actions confirmed by the advertiser.
Average processing time. Reflects the period of time it takes the advertiser to decide on confirming or rejecting an action. Same as the three parameters mentioned above, this is an average indicator based on the results of the work of all of the publishers connected to the offer in PRO format.
Number of valid coupons. It shows how many special offers there are currently available for customers (discounts, gifts, free delivery). In order to see the description of all coupons, just open the basic version of the extension.
Traffic source (Ad Space) selection. Since the PRO mode only works with the publishers who are connected to an affiliate program (and have undergone moderation if necessary), it is important to indicate the website. If the website is not connected to the affiliate program, you will see a pop-up plate with a warning.

You can turn the toolbar on and off as well as choose for which websites it will be displayed, in the extension settings.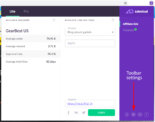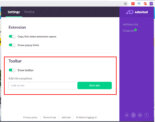 The "Show toolbar" mode will be active by default — this means that it will be displayed on all of the websites operating through the extension. Below you can add exception websites: in this case the toolbar will be disabled only for these websites, and will not be displayed on them.
If you turn off the "Show toolbar" mode, then the toolbar invertedly will be turned off for all the websites (including those websites that you indicated as exceptions) until you turn it back on.
---
Admitad Extension PRO for beginners
---
It is better to use the PRO version having gained some experience in the affiliate networks. Lite version will help you to gain it as well as testing different online stores, products, audiences, etc. And, of course, the special Admitad Academy articles for beginners will help you:
When you finish studying these guides and articles and learn how to work earn with affiliate marketing with Lite version, you will be ready to switch to the Admitad Extension PRO.
What will you get from switching to PRO version? First of all, the reports on affiliate programs are more detailed. Moreover, the terms and conditions of affiliate programs are better due to the exclusive cooperation with the advertisers. Your traffic (customers) will be more targeted, you'll learn to analyze statistical key figures as well as will get access to additional tools and other Admitad features (for example, Unique promo codes or XML-feeds). All these features will help you reach new level of work and earn more.
---
So where can I find how much I've earned?
---
If you work only with Lite version, this can be done as follows:
1. Open the extension and find the second hyperlink (Reports) and click on it.
2. You proceed to your personal account. Here you see the graphs with the actions, earnings, etc. There is information on your earnings in the top right corner.
It is the same in both versions — PRO and Lite. Here is how it works: you log in to your Admitad account and open the tab "Reports". All actions made via Lite-links will also appear in the reports. Watch in our video the dashboard review: "Dashboard review"
As you can see, everything is really simple — create a link and share it with your subscribers or friends. And that's it, profit!
---
If you still have any questions, you can always visit the official websites of Admitad Extension PRO and Admitad Extension Lite where you will find all the information you need.