10 Nov 2020
Affiliate programs popular in November. Earn more during 11.11 and Black Friday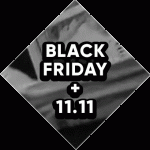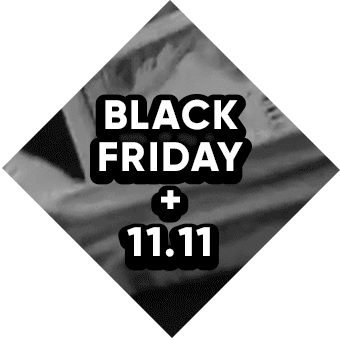 The middle of October is the time when publishers go into overdrive — expecting two major, high-traffic events: Singles' Day and Black Friday. In this text, we will remind you what those events are and how to deal with them; we will also tell you what product categories to drive traffic to: on November 11, on November 27, and independently of the dates.
Most verticals we covered in our September and October collections will remain yielding. This concerns food and drug delivery, home study goods, household products, and online education.
Here's what we would like to add to that list:

The article will be updated as we receive more information from Singles' Day and Black Friday participants. To see if the offer is the part of the sale, select the appropriate section in the "Categories" of the affiliate programs catalog.

Important! Always pay attention to the GEOs which your affiliate programs target. For this article, we have chosen countries from the WW (worldwide) category: Europe, USA, India. However, some programs have prefixes that help you determine which country the program belongs to (for example, It for Italy, Pl for Poland, In for India).

Singles' Day (Nov 11)
Singles' Day is a tasty morsel for publishers. On November 11, the e-commerce market will play out in fresh colors. Chinese stores organize a frenzy of sales, while advertisers offer new tools and resources to help publishers drive more traffic to programs…and earn more.

How it was last year. Coupons, landing pages and interactive games are still valid in 2020.
The main star among Chinese shops, which is going to shine even brighter on November 11, is AliExpress (discounts will be up to 70%). Also, this year there is the First cookie wins type of attribution. It means that new users who activated a coupon and added a product to the cart during warm up period will generate income for the publisher, through whose links the user got to AliExpress initially.
Also, single items oriented attribution mode is availabli in AliExpress now. If the first publisher brought a customer to the page of a certain product through a deeplink, and the second — just to the main page of AliExpress, then the first publisher will get a reward.

But, affiliate program catalog also tables other options that publishers may love. Click on the "Goods from China" category and pick programs you like.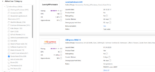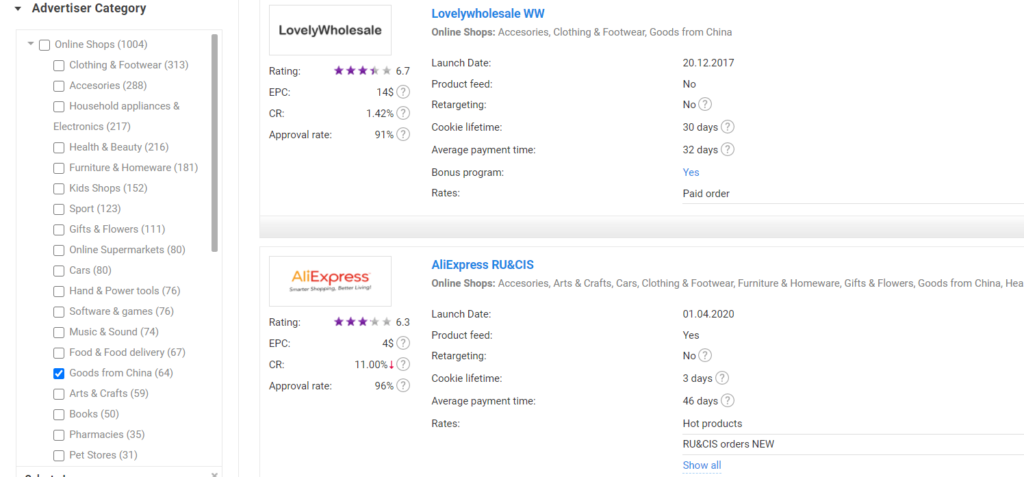 Black Friday (Nov 27)
Though Black Friday originated in the US, it has already conquered nations across the globe. To be more accurate, people conquer stores (including online) during the campaign. This is the holiday for all market entities: Chinese shops, global giants, and local goods and services merchants. Discounts depend on the segment. For example, discounts on electronic devices start from 20%, on clothes and shoes — from 50%.

Both on Singles' Day and Black Friday, most stores aim to not just sell more but win more loyal fans and tell people about themselves. This is why sellers drop their prices to the bottom, ready to do anything else to get noticed. Publishers can make use of it: it's way easier to sell discounted goods!

During the Black Friday sales, average CTR increases by 20%, and CR — by 30%.

How to make even more money
Do not forget to warm up your audience and use special tools. This pre-heat period usually lasts two weeks and ends right on the big day. Black Friday also starts one or several days before the actual date and may even last up to the next weekend.

The goal of the warm-up period is to stimulate a user to add things they like to cart to check out later with a huge discount. Persuasively inform users that products will go off like hot cakes during the sale, so they may want to add products to cart — to "book" them.

To urge users to add products, advertisers equip publishers with various tools: discounts for new customers, coupons, interactive online games that can help users earn bonuses and coupons, special landing pages, or special discounts for pre-added goods.

And by the way, all publishers and advertisers will be informing users about discounts. So try to be among the first so that your offers don't get lost in the heap of other discount messages.
Mend your sails on time. Yeah, you'd better start your preps before the warm-up period even starts. For example, right now! Study what people are interested in, and refocus your efforts on such products and services. Make use of Google Trends, discussions of the upcoming sales on forums and feedback aggregators, recent years' consumer behavior and demand studies (something like this).

Top categories: digital and household appliances, clothing and footwear, beauty and health, products for children and sports, online services.

We also recommend that you allocate budgets to promotion of the advertisers' goods and services during sales beforehand, setting them for a larger spend than you usually devote. The reason is quite straightforward: if you want to get more, be ready to invest more. But it's worth it: during the sales period, advertisers increase their bids for publishers up to 50%.

It's not only you who needs to think of the sales in advance: your leads also do. Remind users of the impending events. For instance, send email newsletters or create teaser banners with price comparison (e.g. this is how much this golden jacket costs now and here is its price on Nov 11) and show them to users beforehand to heighten their interest.


Carefully work on creatives and content. Do not fear to design eye-catching banners, using push notifications, and pushing users for activity. Humor, attention-grabbing images, close-shot product images, and bodacious slogans are fairly appropriate under such circumstances. But don't go too far and remember that such tricks should not be your everyday practice. However, Singles' Day and Black Friday are events when sellers turn into fierce rivals, so all is fair in war. Such sales are holidays for publishers: the time when they can legally go mad.

Invite your target audience, readers, and viewers to participate in designing creatives. Offer discounts and coupons from advertisers for best suggestions. This is a win-win again: people love discounts and you get content and even larger earnings. Create selections of landings and articles with discounted goods (e.g. best quality and best value). For thematic platforms, tell about specific goods: for one, if it's a tech blog, publish a collection of hot offers on cameras, appliances, and smartphones. Tell stories (like this one) that will attract and entertain users, reminding them of the event.


Pay attention to the technical nuances. During sales, traffic rains down on sellers' websites, landing pages, and content projects. Make sure your platform is ready for this wave: test your website (here's how) or warn your users that there may be technical issues but they should be patient.

Yet another concern is not a technical but still very important thing: time zones. Be sure to specify the sale time for the region where you work so that the users do not miss the event.


Get in with the statistics. Collect numbers when driving traffic to Black Friday and Singles' Day. What stores and product categories were most demanded by the target audience? What creatives brought the most sales? How many clicks and target actions were made? How many of them were approved by the advertiser? All these numbers will help you optimize ad campaigns the next year — and earn even more.


Go big. On Singles' Day and Black Friday, you'd better drive traffic to large stores that accommodate a multitude of product categories. Here's how it happens: A user comes to a store to find a certain product but winds up adding a bunch of products to cart ("It's so cheap! I need it!"). This is because sales are good for inexperienced publishers who do not have a good understanding of what to drive traffic to and who their target users are. You can go with an everything-in-one-place store (e.g. AliExpress).
Pro tip. Keep track of products' prices in stores. Advertisers sometimes raise the prices to later decrease them during the sweet sale period and say, "Look, we offer great discounts!", actually only restoring the original prices. Users hate being fed such fake-discount goods.
Now let's talk a bit more about what to drive traffic to. All these categories and recommendations work for November as a whole and two large sales in particular.
Winter apparel and shoes
The most obvious option is winter apparel and shoes. Brands offer new seasonal collections, while people want to get themselves trendy new things and put on something warm. Again, selling yet honest and helpful content rules. Tell people what, where, and why they should buy.

Programs: Macy's, Ssense, Patpat, Carter's, Old Navy US, Gap US, Luisaviaroma, Yousporty, Bershka ES, Vertbaudet ES, Myntra IN, Gant UK, MandM Direct UK, Carter's, Oshkosh.

Winter sports
This is yet another category whose target audience significantly grows every November. Skiing, skating, snowboarding, and sledging are joy for everybody: adults, children, novices, and experienced sportspeople. Make your targeting settings more specifics to hit the bullseye of the Needs and Preferences dartboard. Don't forget protective equipment!

Programs: Go-Sport PL, Yousporty, Banggood, Tomtop, Alibaba, Sportservice PL.

Start of the New Year and Christmas shopping rush
X-mas trees, decorations, souvenirs, and gifts — people start buying it starting in mid-November. Wholesale offers may be good, while holiday-styled and optimistic creatives may strike the chord in users exhausted by the year.

Programs: Society6, AbeBooks, Zolpol IL, AliExpress, Romwe US, DHGate.

Car products
November is the time of the second wave of demand for car goods and maintenance. People need winter tires, windshield washers, and other accessories and essentials.
Programs: Gearbest, AliExpress, Ucando PL.
Electronics
Also, the last month of fall is the time of growing needs for gadgets and appliances: TVs, gaming consoles, GPUs, heaters, etc. The reason is both people's obligation to buy each other Christmas gifts and sales! People wait for Black Friday to buy gadgets with a great discount. And here comes a chance!
Programs: Adorama, Drop, Logitech, Geekmall, Banggood, Sunsky-online, Geekbuying, Samsung IN, OnePlus IN, Zavvi.
Other sales and holidays
This year, Cyber Monday falls on November 30, when sales will start in the US, Canada, India, and Europe. On Cyber Monday, online stores please customers with gigantic discounts and publishers with ways to make money.

Programs: see appropriate section in the "Categories" of the affiliate programs catalog.

In Catholic Europe, November 11 is Saint Martin's Day. Gifts, decorations, holiday meals, flowers, and sweets — drive traffic to these categories.

Programs: Yeppon IT , Omio, Hunkemoller.

US citizens celebrate two important days in November: November 11 is Veterans Day; November 29 is Thanksgiving Day. Design fancy creatives and reap benefits of holiday traffic.

Programs: Best Buy, Banana Republic, Old Navy, Geekbuynig.

On November 14, India celebrates Diwali, one of the main holidays of Hinduism. People will be interested in decorations, gifts, food, and attention-getting looks.

Programs: Zivame, Floryday, Themomsco, Mamaearth, Lenovo, Vijay Sales.
---
Subscribe to the Admitad mailing lists to receive all the news on Singles' Day and Black Friday. Long live the sales!