8 Dec 2021
Discord: creating, promoting, and monetizing a server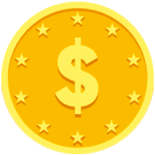 Currently, Discord sees a monthly audience of 150 million people. As with any other popular platform, ways to earn money on it appear.
Let's embrace this opportunity and discuss what Discord is, what to do with it, how to monetize it, how to promote products and services there, and how to use it to acquire users.
How Discord works
What is Discord? Discord is a messenger that was launched in 2015. Initially, it was mainly a communication tool for gaming enthusiasts. Today, Discord is a powerful platform for friends, colleagues, and people with different interests. Here, people create communities and chats, influencers and famous bloggers (e.g., PewDiePie, the world's top-rank streamer) hang out.
Discord allows sending voice and text messages, video-calling, screen sharing, and streaming. Some schools even host online lessons on Discord. What users love the most about the platform is the high quality of sound.
Read the extended manual for beginners that will help start using Discord.
Discord servers—which may be private or public—branch into channels. Servers offer the following administration functions: comment moderation, banning, distribution of admin and participant roles. Channels can be text or voice.
Thanks to the flexible access system, you can create not only public channels but also channels for the most loyal participants, niche channels, tech support groups, and anything else you could imagine.
Here's how it works. We joined the Sephora server, and it appeared in the left-hand menu, above the green "+" icon. On our left, we see the chats and channels on this server. So we enter the channel "eye-shadow-looks" to check out what eye shadow make up ideas users post: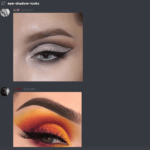 The manual will help you create and set up a server. Learn more about configuring servers and channels here.
Once you log in to Discord, you will be prompted to create your own server. Check out the "+" button in the left-hand menu: click on it to create a server.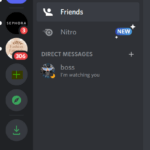 Tip. Use a permanent link (that never expires) to invite users to your Discord server.
You can use the messenger both as a desktop and a mobile app. It's totally free, but you can get some extra functions with the Nitro subscription that will cost you from $5 per month.
So, Discord is a place for easy text, voice, and video communication.
What to sell on Discord and why do that
An interesting feature of Discord is no ads and thus no advertising account. This is why you won't be able to set up targeting and publish ads, as you do on many other social media. That being said, Discord is still actively used as a marketing instrument.
Video game developers were the first to come up with the idea of employing Discord as a promotion tool. Here, organic methods of digital marketing—communities, informing people about products, creating a demand—are very effective. Being not direct sale processes, they are still a crucial part of a marketing campaign.
Discord audiences are extremely diverse, comprising people of almost all age groups and social strata. The platform allows promoting any products, from everyday goods (apparel, electronics, sports gear) to traveling items, video games, and IT software.
However, Discord is not the best place for the B2B segment, complex and pricey things (real estate, finance), goods and services subject to a long decision-making cycle.
On the other hand, Discord is great for those who want to establish a community of loyal, like-minded users. The platform is handy for translating the product value, enticing, and showcasing the advantages.
How to promote a Discord server
So you've created a server. What's next? You have to acquire followers. But how do you do that?
The first way is to advertise on other servers. Get in touch with the owners of a server you like and offer mutual promotion. Learn how much it will cost you to post a link to your server and whether the server owners are open for a barter (link exchange).
What is critical here is that the audience of the server or channel, where you will advertise your space, gets interested in your product. Search for communities by keywords using the button in the left-hand menu (under the green "+" button).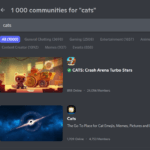 On your left will be a list of server topics. You can use them as search filters.
There are some websites on the web where server owners publish information about their resources—so users, looking for places to talk and read, could find them.
On Disboard, for example, servers are split into categories; there, users can share their experience with servers. On Disforge, not only servers but also bots are promoted. Discord Street is another handy catalog of Discord channels.
Deploy a permanent link to your Discord server wherever you can: on your website, on the forums, in your account, on social media, in email messages (sewing it into the "Join on Discord" button). Lead people to your servers through target ads on social media or contextual ads in search engines.
Join other Discord servers, participate in discussions, leave helpful comments so people notice your server and want to join it.
But the best way of gaining—and retaining—new users is creating exciting, helpful content; maintaining an active, lively community; interacting with server members; prompting users to recommend the server to their friends.
Important! Don't generate fake members. As with other services and media, it won't do any good: you need alive and active users, not bots.
How to earn on Discord
Here comes the main tip for those planning to make financial use out of Discord. Create a community server for your brand, product, or business. That will be the target page with sections and chats on various topics (channels) that will offer a wide range of opportunities.
Users (your potential clients) will be able to leave their reviews, ask questions, and talk to other users. In other words, a Discord server can be a home for customer support and opinion exchange between users interested—or who may be interested—in a product or niche.
You can also tell people about your product, share some news, instructions, and content—and use this content to acquire even more users.
Some famous brands already have their Discord channels. You can find Chipotle, AllSaints, Jack in the Box, and others. Company representatives are active in discussions, answer user questions, and even hire people on the platform. Meanwhile, alternative apparel brand Hot Topic created an anime-devoted server to tell people about this field of art and promote its products.
Let's talk about business models. First and foremost, as we've already mentioned, a Discord server can be a platform where people learn about brands.
Secondly, one can keep a channel, become a blogger or influencer and promote brands for a fee.
Alternatively, you can advertise your products. Suppose you have created a server dedicated to Korean cosmetics, where you write reviews and invite people to discuss their favorite brands.
Tip. Before you establish a server devoted to a particular topic, make sure your target audience lives on Discord. You might want to check out other related communities and see if they are demanded and popular.
Create chat channels to let users communicate, or channels where you will post messages and your followers will read them. The latter will be something like a Telegram channel. You can find a guide to creating a read-only channel here.
Another content monetization model is affiliate links. Briefly, you tell about a product and provide an affiliate link to it (read here to learn where to get it). Once users follow it and perform a target action—i.e. buy a product—you are paid.
Check out this text to learn more about affiliate marketing.
Create reviews, use triggers, generate native content, tell stories, and deploy affiliate links into your posts.
Recommend products and services associated with your channel. Getting back to the Korean cosmetics example, you can write a review of face serums, comparing their strengths and weaknesses, and leave some affiliate links to the best items.
Discord can also be a good webinar platform, since it allows video calls. Those can be paid-access lectures with ultra-valuable insights, product presentations, or educational webinars or streams.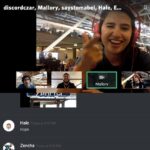 You can also promote other servers in your community. One of the ways is mutual promotion, where you recommend a related channel to your followers, and a link to your server is published in the channel you promote. This is how you exchange followers.
Another option is to sell ads on your channel, provided that your followers make a quality audience. Try keeping the ads native, organic, and relevant to your users. And don't go too far.
More ways to earn
The most apparent method is to sell a hyped server. You can use Discord server exchanges, social media communities, and forums as marketplaces. Depending on the topic, audience size and quality, prices may vary significantly.
Receive donations from server followers. Explain that you create quality content, invest your time and effort, and would like to get some material support from those who would like—and could—fund you.
Leave a link to your PayPal account or associate your Discord account with Patreon (you can find the guide in English here).
Provide users with extra features for donations or fees. For instance, grant access to private channels where exciting discussions take place, experts answer user questions, valuable, exclusive content is published. You can also create a private server for paid followers only.
Tip. Before you create paid-access channels, ask users whether they are ready to pay for extra content—whether they need more than you do on the main channel. And be sure to maintain the content quality on the public channel.
Bots. They can do much. For instance, you can create a bot that will send reminders, ads, or news at certain intervals. If you run an online store, you might want to have a bot that will send users product collections and information about deals, and request feedback.
Create a bot with paid and free functions. A good example is a weather bot. It can tell users about main weather parameters for free, and—for a fee—share some deeper insights, including pressure figures and tips for weather-dependent people.
You can develop and integrate a bot on your own, if you're good at programming, or delegate this task to a freelance coder. Alternatively, you can use some ready-to-use bots, which you can search with a query like, "Discord bots for [your goal]" or "Discord bots."
Not only can bots help one earn money but they can also make things easier for server owners and admins. Bots can moderate chats, communicate with users following preset scripts, distribute access roles, and manage polls and contests.
Another Discord option is streaming (remember the video chats).
---
We wish you to conquer Discord, a rapidly growing platform offering rich monetization opportunities.