5 Jan 2021
Selling on Instagram. Brands' best cases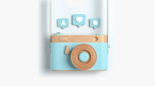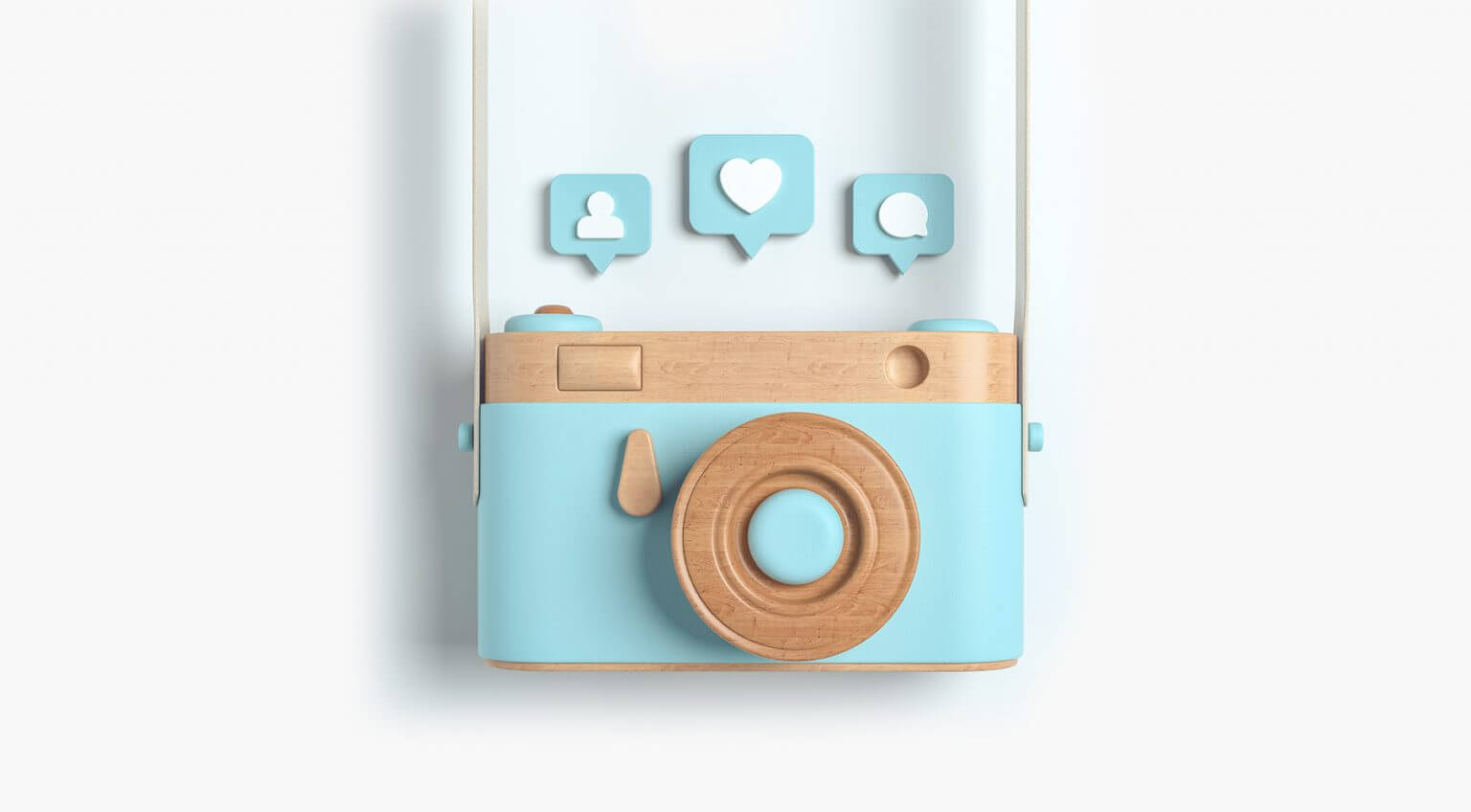 Currently, Instagram's daily user count rests on the level of over 1 billion users. It's easy to imagine the potential of the serviceable audience. But, to make sure your ads are seen and trusted, you need valuable content that will strike the user's eye.
Instagram is pure power; not only for those who aspire to show off their perfect shape and good-looking meals, but also for those who earn online. No matter what you promote, you will find an interested user on Instagram. The only imperative is how you deliver your content—and this is the lesson we will derive from other brands' experience.
Some tips will work for strong accounts—helping them acquire even more users. The others will come in handy for those only taking their first steps in Instagram sales. Here are our cases for today:
Most photogenic
Content quality is not about the "what" but also about the "how." National Geographic's profile is largely considered one of the greatest photo accounts. The channel offers several topics, including travel, wildlife, and regions (e.g. Italy); all of them are so beautiful that marketers don't have to come up with contests or other techniques to keep the audience engaged.
Square Sayings is a company that manufactures apparel and accessories in an original style—which they transposed to their Instagram account. Too samey? No, it's laconic and brilliant.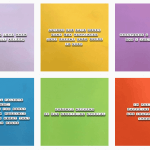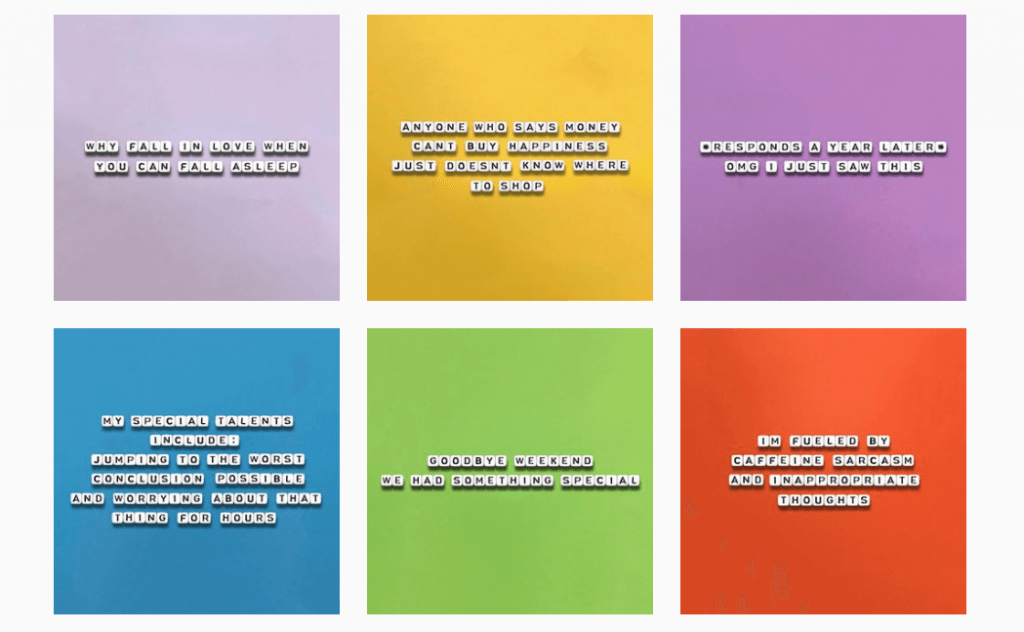 What to learn from this? It goes without saying that powerful photographic resources National Geographic has in disposal can be unaffordable for some. But image is the king of content on Instagram, so it's your paramount goal—to care about your visuals. And try to stick with one style to ensure your profile's integrity.
One may think Mercedes doesn't need any special promotion. However, this major car brand regularly introduces new products; and it wants users to learn about—and want to buy—them. When the company created its first CUV, marketers conceived a brilliant concept. They shot photos of various belongings and things that could fit in this seemingly small car; and arranged them on the trunk mat. Those items included a hamper, tools, and even pets. As a result, Mercedes marketers got classy and value-carrying photos that clearly reflected the car's benefits.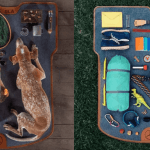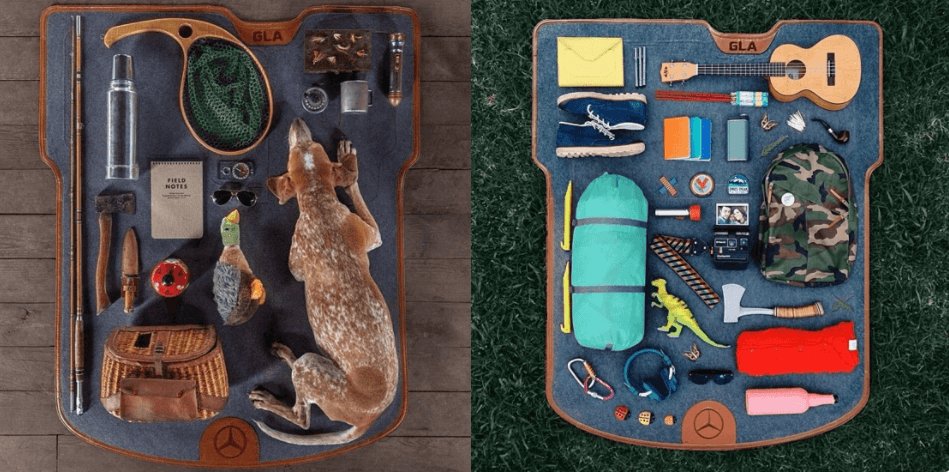 Down the road, the campaign secured a 54-percent gain of transitions from the company's Instagram account to the website.
What to learn from this? Pick a benefit of the product you promote, and tap into it. Create an audacious photo session so people can see both how your product looks and what it can do for them.
Most engaging
Back in 2015, Adidas launched the #MyNeoShoot on their Instagram account. Neo Shoot is Adidas's apparel and shoes collection for young and active people. And it was that subbrand that challenged people to create Instagram content and publish it under the branded tag. Following the contest, Adidas invited the best creators for a professional shooting.
Both influencers and regular people were happy to participate in the challenge that ended with 41,000 new subscribers and 71,000 #MyNeoShoot mentions. Apparently, celebrities helped the brand tell about the event; as for you, you can always engage your friends and followers and ask them to blow the campaign about, or collaborate with micro influencers.
What to learn from this? People love engagement, calls to action, and challenges. They love creating and getting rewarded.
Small children's apparel brand Narzbaby has centered the content plan of its Instagram profile around a family story. Since the company is owned by a couple with two little children, they developed into micro influencers with a small yet loyal audience.
What to learn from this? Tell stories: about yourself and your product. Make sure these stories are relatable. In fact, storytelling can be highly efficient in communicating and establishing trust between the blogger and the subscribers.
Austrian cheese manufacturer Philadelphia demonstrated uncanny creativity in targeting. They conducted a fancy photo session (remember that quality and creativity are key on Instagram?) where cheese was part of different appetizers—impressive, tasty, and easy-to-cook. Those posts were targeted towards young women fond of home-partying, inviting and treating guests. Modern targeting settings allow defining even more specific audiences.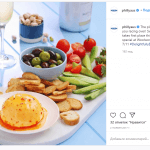 Philadelphia's sales saw a 41-percent increase after the campaign was started. Yet another proof of how valuable proper targeting can be!
Dove marketers could hit the bull's eye. Initially, they banked on the study that found that 80% of women face negativity on social media and set themselves the task of improving this experience. The company initialized the #SpeakBeautiful campaign on Instagram, aiming to gather the most inspiring words with which women describe their body.
Result: 168,000 tag mentions and pleased customers. Reason: Dove is perfectly knowledgeable about their audience and what it wants; the company knows for sure whom to appeal.
Custom framing company Framebridge has tried a peculiar targeting technique where they showed ads to people that had recently experienced something grand in their life (e.g. wedding, childbirth, moving to a new house) and wanted to capture the moments in photos.
What to learn from this? Pay heed to studying the target audience that you focus your Instagram advertising campaigns on. Think of people's pains and needs. Narrow down your target audience. Imagine the difference between showing Philadelphia's ads to just young women and showing them to young women who are into home parties.
Most relevant
It's imperative that you publish the right content at the right time: this is what they call situation-based marketing. Oreo cookies manufacturers showed a great case. During Super Bowl XLVII, an outage happened and caused some of the lights to go out, all of a sudden. The sandwich cookie's social media team tweeted at once, "Power Out? No problem. You can still dunk in the dark."
As all Americans follow Super Bowl events and love dunking Oreos in milk, so that trick turned into a promotional triumph.
What to learn from this? Keep an eye on what's happening around: what people talk and are concerned about, what amuses and exhilarates them. Tap into emotions by creating here-and-now memes that will secure user attention. The faster you respond to a big affair, the better.
The smartest
Amazon managed to kill two marketing birds with one stone. They took internal news—when the company headed the user poll on online stores' reputation—and just published the poll chart image on their Instagram account; without any words. To express their gratitude to the users, they offered discounts.
What makes this move so great? Two factors. For starters, discounts are evergreen drivers: they motivate people to buy. Secondly, Amazon let people know they do value their customers and care about what they think and what they say. It can't leave a consumer unmoved.
What to learn from this? Today, brands love walking on thin ice, sometimes even getting under the skin. It may work; or it may not. Meanwhile, praising and treating with discounts never fails.
Camp Brand Goods is a brand that specializes in creating rational apparel for active leisure and traveling. This is what they center their Instagram profile around: posting photos of nature, roads, and hiking. It's not the brand the team focuses on; it's lifestyle. Brand products are mentioned sometimes, but it always looks appropriate.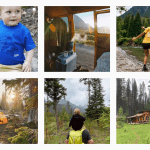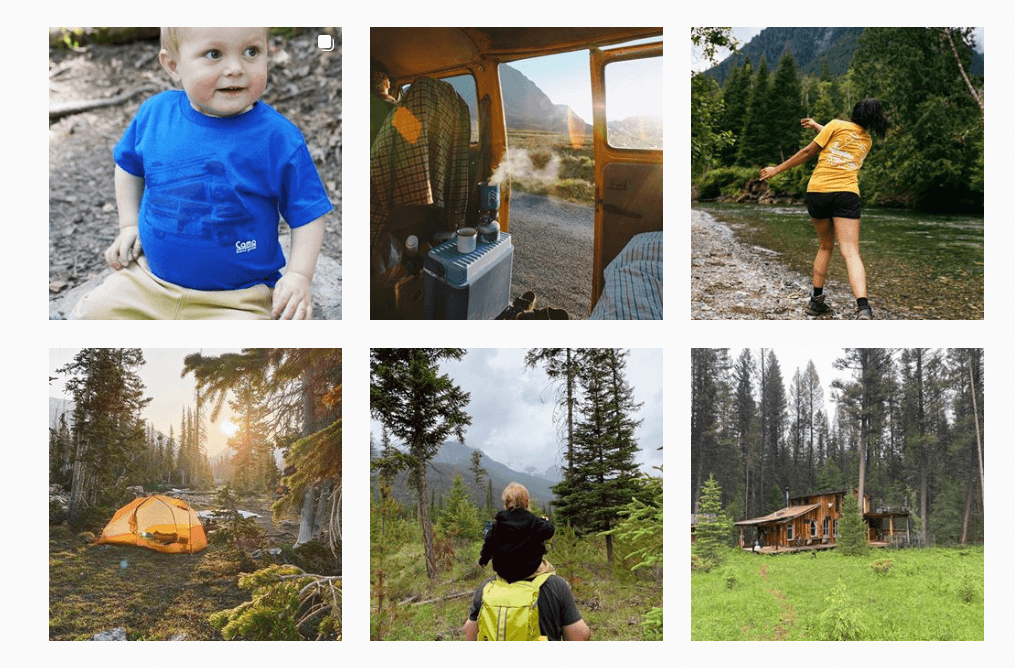 Russian cheese manufacturer Umalat runs a great cooking account. In the profile, they gather video recipes that use the company's cheeses. All the videos are shot with great quality, featuring signature music and fancy dishes. But the high spot is the account itself—with offbeat interpretations of well-known meals, peculiar food combinations, and comprehensible instructions. Following them is sheer pleasure, not to mention cooking with their guides.
What to learn from this? Nobody likes ad-filled accounts. If you are an expert in a specific field, share your expertise, skills, and insights with other people. Good-looking and valuable photos and posts, which can afford pleasure, incite dreams, and introduce something new, will be way better sales drivers than point-blank ads.
Most lively
Instagram Stories are short videos or static clips up to 15 seconds long. Those are a great advertising format as they allow active links (while posts and comments don't). Besides, Stories are really popular among users.
Targeting both children and older people, Lego's regularly publishes polls and quizzes on Stories. Recently, they showed a photo of a Lego Harley Davidson model and invited people to guess how many elements it comprised. A great example of selling a product intended for one audience, to a completely different one.
In fact, interactivity is the cornerstone feature of Instagram Stories, and it allows for a multitude of techniques to invoke. Starbucks invited the users to guess what item will come back to the menu. Users shared their versions on Stories; the company posted the funniest ones on its account.
National Geographic also uses Stories to publish shortened teasers of long posts—all to engage the users and land them on the post itself.
Sex simulator named Fingering Stories demonstrated probably the most creative case. The gadget is created to help men practice delivering sexual pleasure to their women. The company clearly indicated the problem: lots of women cannot have an orgasm and need their partners to be more thoughtful and skilled. In their advertising campaign, Fingering Stories created interactive clips that taught users to use their fingers correctly. As a result, the company saw a reach of 1 million users.
Instagram Live is an in-app tool that allows conducting live sessions. Users also love it for the presence effect and the ability to ask questions here and now. All this leads to engagement growth. For instance, gym marketers employ Instagram Live to hold free training sessions online: this can be way more fun than publishing recordings.
This tool is also heavily used by restaurants or cooking influencers. Having started a session, they cook online, with observers commenting on the process and sharing their thoughts, expectations, and recommendations. Besides, such live videos may come in handy for promoting foods and kitchen gadgets.
What to learn from this? Stories and live sessions help create engaging, interactive content. This format creates a full participation effect—thereby enhancing loyalty and probability of purchase.
Most… unsuccessful
Let's talk about things you may not want to do. Swimsuit production company Sunny Co Clothing organized a giveaway to commemorate their new model. The company promised every Instagram user who shares the ad post a 65-dollar-worth swimsuit. But Sunny Co Clothing never expected that the post would go viral and hit the count of 3,000 shares. As you may guess, some couldn't get their swimsuit—and this put them into a rage.
What to learn from this? Don't promise anything you cannot deliver. If you conduct a contest, set out the terms unambiguously, mentioning (if necessary) that the number of participants is limited.
In fact, the marketing industry knows lots of cases where brands only tended to exhilarate or amuse people but wound up driving their customers mad. One of them is Dolce & Gabbana's Instagram publication. The company depicted the signature shoes with the words, "I'm thin & gorgeous." Predictably enough, this post caused a flurry of furious responses; users argued that the designer irresponsibly insulted people with a non-perfect body.
Another big mistake of Stefano Gabbana's followed. He started writing back inappropriate things like, "darling you prefer to be fat and full of cholesterol? I think u have a problem", "good FAT", "idiot."
What to learn from this? Be careful with sharp phrases and risky jokes. Remember that you are supposed to help users, not insult them. If you did make a mistake, make a proper apology and try to make amends: you don't want to exaggerate the thing. Otherwise, you may lose trust and ruin your reputation.
---
Creating selling posts for Instagram is a task for creative and thoughtful people. We're sure you'll rock it. Tell us about your cases and we will be happy to give them a share!