6 Oct 2021
Targeting solvent and wealthy audience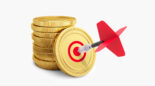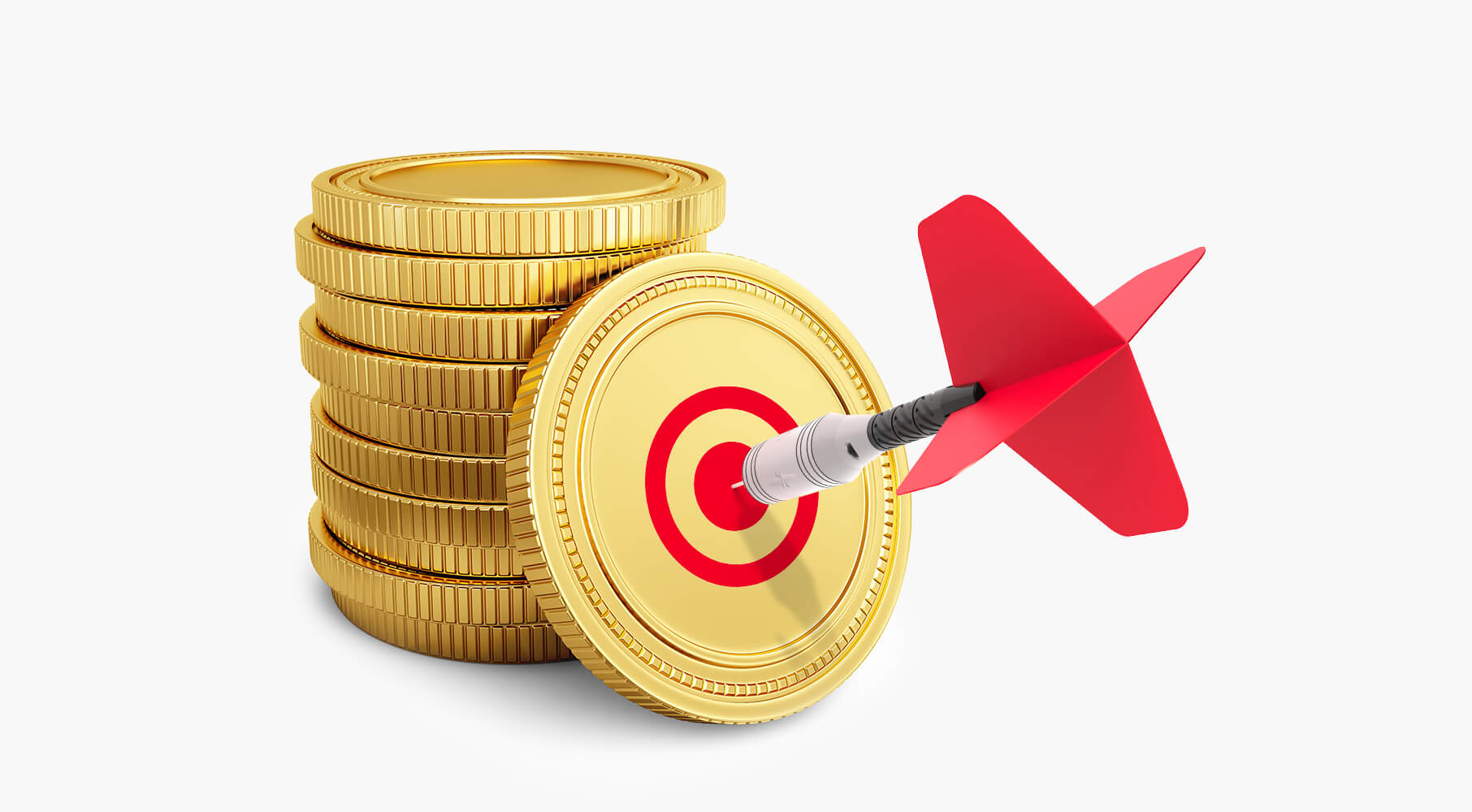 We target ads to users using dozens of parameters. One of them is solvency — i.e., purchasing power.
It's critical to know how to find such people — both for those promoting premium-segment goods and those advertising mass-market products and services to users who aren't shy of spending lots of money on online shopping.
We are going to share with you some factors that will help you identify and attract deep-pocketed users.
Features of wealthy audiences
Purchasing power is a rather loose notion. Wealthy people can be divided into several categories. Some can afford a bit more than others; some are really rich and only seek out premium-segment products. Still others just spend more than they should.
To sell anything to these people, you need to have a deep understanding of their psychology. And it may be much harder than setting up targeting, say, by age groups or targeting ads to moms so they just buy some baby stuff.
When we talk about purchasing power, it's not always about how much a person actually earns. It also concerns how they spend money, how they save, and what motivates them to buy.
Can we put a specific income level on what counts as wealthy? Or do we talk about their inclination to spend more and buy status symbols? It's a crucial point. How you interpret your audience's purchasing power shapes the way you set up your targeting. You should be guided by specific psychological triggers and traits.
In his book "The Millionaire Next Door", American theorist and writer Thomas J. Stanley PhD has highlighted a bunch of features typical of solvent people. For one, studies show that average-income people highly dependent on other people's opinion and status are willing to pay more for branded products: what they appreciate are their status and class.
You may know some people opting for installment plans to only buy the newest iPhone, even though their real income doesn't allow them to.
The propensity to buy deluxe-grade products is common among top professionals and specialists — e. g., doctors, professors, executives, and lawyers. In most cases, they really can afford top-of-the-range products. But the thing is that the status trigger acts on them just as strongly as it affects the lower-income cohorts we mentioned above.
These two groups include people who don't care much about their wallets: they don't save and often spend much more than they earn. Discounts, deals, and value offers are much less important to them than a brand's reputation and classiness.
The third group is those next-door millionaires. And Stanley argues that these consumers demonstrate totally different behavior. With this in mind, one has to employ a different approach to advertising anything to them. Such users, in fact, know how to save, put aside, and multiply their money. Financial stability is well above status in their universe.
This group comprises entrepreneurs, company owners, seasoned investors, and sales specialists. Deals, products and services that can become investments and guarantees are what interest them most of all. On the other hand, brand class and trendiness are secondary. And impulsive purchases occur extremely rarely among these people.
These are only some of the patterns that suggest that polar categories of consumers can all fall into the category of "solvent people." It's hard to find any exact patterns here — even in such obvious parameters as age.
Statistics show that over the last few years, the average age of people joining the ranks of the super-rich is declining. And since wealthy people are getting younger, we can't say anymore that it doesn't make sense to target luxury goods to people under 40 years.
But still, there are some regularities to use as ranging marks. A PwC study has shown that well-to-do customers spend up to 3 hours online every day. See the point? We can catch them.
Below are some tips you can apply to target different groups of solvent customers. The safest way is not to use them separately but combine them into your own powerful variations. Effective tricks can help you land your target audience.
How to set up targeting
To target deep-pocketed users, we can leverage information people add to their accounts by themselves and run some social media or contextual ads.
For example, use targeting by interest or by premium-class educational institutions, specialties, occupations, or titles. You can find all these details on LinkedIn or Facebook.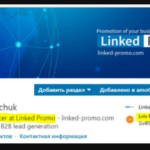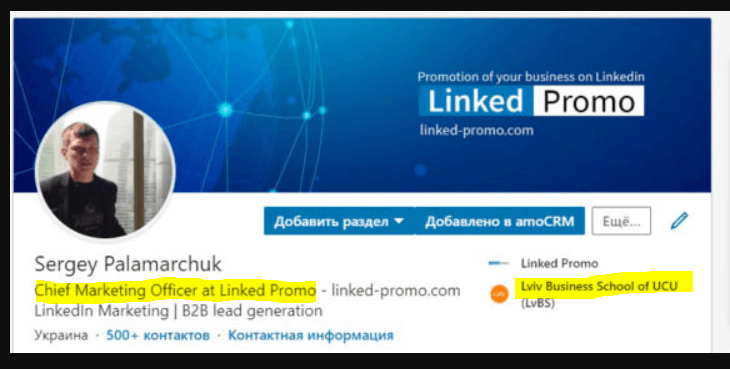 Or you can focus on elite residential districts (target by postal code with exact location accurate to half a mile). You can check out some studies to find out the regions where people earn more, and which districts have the highest density of well-to-do residents.
On the other hand, this approach has one significant downside. People often specify their title, occupation, or residence when they sign up, and then forget to update these details ever again. This is why it's safer to use behavioral targeting—more relevance, and more efficiency.

Target people who love to go places (including abroad). Since the prices have jumped after the pandemic, being able to afford a fancy trip can be a clear indicator of solvency.
You can find these targeting settings in Facebook Ads. And don't forget that the Facebook Ads service allows you to set up Instagram ads as well. You can show ads to people who haven't turned off location tracking and often visit various places; or those who selected "traveling" as their interest. Alternatively, you can use location tags people leave after they visit a place.
Facebook Ads' detailed targeting section "Behavior" Ads has a tab called "Travel." This will help pick out people who travel a lot or, say, returned from a foreign trip a week ago.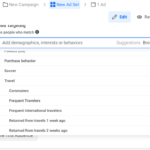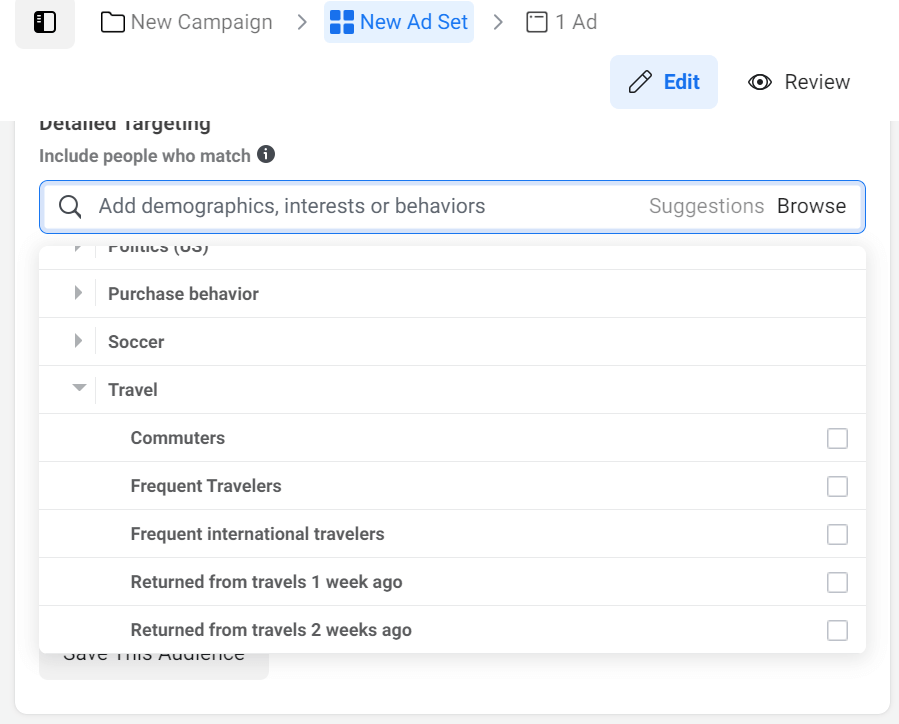 Target ads to people using top-range devices to go online. This can be tricky, since much fewer people can afford an iPhone in emerging nations than, say, in the US where Apple smartphones have become a standard middle-class attribute. Always keep in mind the audience specifics.
Marketers note that this kind of targeting, especially on Apple devices) has an economic disadvantage: the cost per click can be really high, mostly due to intense competition. But you can focus on owners of less common and even more expensive gadgets.
Be careful with targeting by interests. A person mentioning luxury car marques in their interest doesn't always mean they can afford them.
Try aiming for corporate profile administrators (on Facebook, for example). If a company has not been that great so far and the page is not managed by an SMM specialist, the admin will turn out to be the owner. And SME entrepreneurs are usually wealthy people interested in valuable purchases.
You can also find small business owners using the settings in the above-mentioned "Behavior" section.
Use audience customization tools on social media. For instance, "Lookalike Audience" can let you reach people with interests and behavioral habits similar to those of your current clients.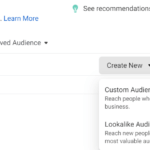 Don't forget that you can filter out certain groups from your targeting. Here's how you do it in Google Ads. For instance, you can exclude very young people.
Use dynamic ads that adapt to users and show them various combinations of creatives. This can help you acquire users with different needs and incomes. You can read more about dynamic creatives in Facebook Ads here.
Please remember that we target ads not only to a narrower segment of max-income people, but also to consumers ready to spend money online.
You can find such users with the help of detailed targeting: go to "Interests" — "Online shopping." If you add a niche in which you operate, your targeting will be even more accurate. Also pay attention to the interest item "Luxury goods."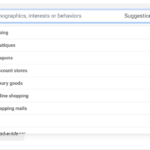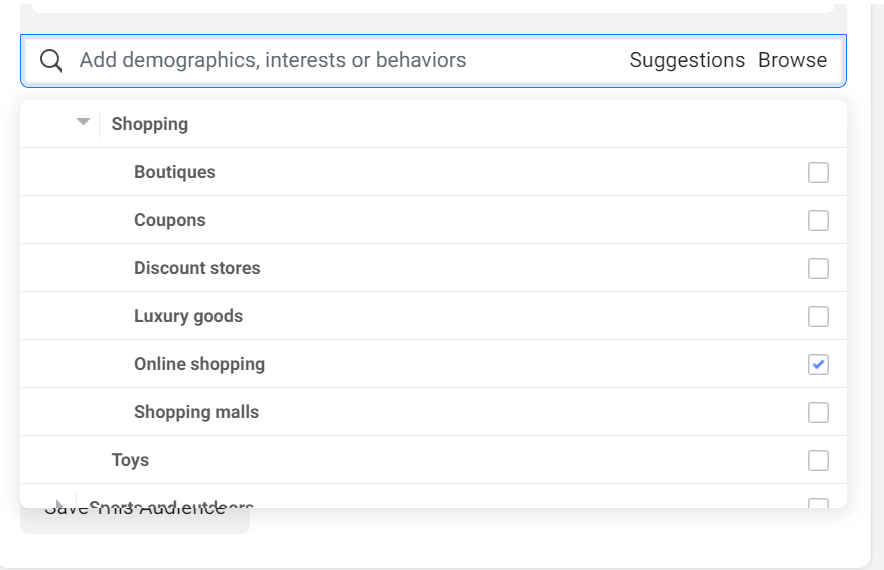 Facebook Ads' settings of the "Behavior" section also have a segment titled "Engaged shoppers." Engaged shoppers are users who show good reception of ad posts, often click on them and "buy now"-like CTA buttons.
More tips on attracting wealthy users
Upmarket purchases usually have a longer decision-making cycle. Those are never spontaneous, and this is why you may not want to employ triggers good for mass-market products (e.g., instant value, buy now and get a discount, etc.).
Go with more elaborate, long-term promotion tactics that will help establish and reinforce trust and loyalty. For one, make some SEO tweaks, including keyword-related ones. Alternatively, use content marketing or consider social selling, which is basically lead acquisition through expert content.
Wealthy people lead a full-on life. Always on the move, they use gadgets to look for products and services. Make sure your website and ads are mobile-friendly.
Solvent clients won't just be interested in premium goods, but premium opportunities as well. Offer some bonuses and privileges that can be hard to find in the market. These might be access to private communities or exclusive content, top-notch gifts, or tailored loyalty programs.
---
Combine targeting parameters and test your audiences. Search for and find your target users—solvent, wealthy, and eager to buy.