12 Jul 2021
eBay dropshipping: how difficult is it to start?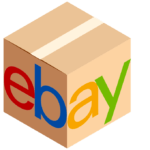 Many people who want to start an online business are paying attention to dropshipping and, one of its forms, eBay dropshipping. There is no need to introduce you to eBay, since everybody knows this online marketplace. But let's check the other side of this eCommerce giant. How is it possible to make additional income there, for example, with dropshipping?
First of all, let's figure out what dropshipping is. Dropshipping is a method when an online store sells the goods without storing and delivering them, but the suppliers (manufacturers, vendors, wholesale stores) deal with all these processes.
So, dropshippers present goods on their own nice-looking websites or in their selling accounts on big eCommerce platforms products for selling. Once they receive an order, they purchase this item from their dropshipping suppliers, who ship this item directly to the customer.
In this article, we will introduce you to eBay dropshipping, check if it is allowed and show how difficult it is to start.
What is eBay dropshipping
Ebay dropshipping is one of the forms of dropshipping or retail arbitrage. It consists of sourcing the brand new products from different suppliers on an eBay store or selling accounts there. Once eBay dropshippers sell a product and process this order, their suppliers or fulfillment services ship this item to the buyer.
Moreover, dropshipping products on eBay look like usual items there. You can go through eBay products to see how they look for buyers.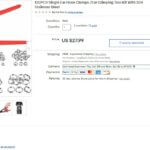 Usually the working flow of dropshippers on eBay looks like this: to find a profitable product, to create a listing on their selling account or e-store on eBay, to optimize it, to get a sale, to order this product from the supplier to the buyer. Dealing with customers, order cancellations or returns are also among their tasks.
Besides, all eBay sellers (and you, when you will open a selling account there) have an advanced seller hub. It's a professional dashboard that eases the analytics, customer service, and marketing. It's a place that will show you if you got an order, if you need to update the tracking information or answer your buyers. This dashboard is easy to use and it's quite helpful: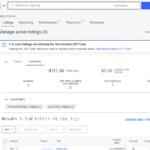 It doesn't sound so difficult, right? However, perhaps several questions popped up in your head. For example: is it even legal? Does eBay allow it?
Let's check that.
Is it allowed to do dropshipping on eBay?
Actually eBay allowed dropshipping in its new policy. However, eBay accepts this activity only with certain conditions:
"The dropshipping policy continues by specifying the dropshipping activities that eBay allows and doesn't allow, starting with what you are allowed to do when dropshipping on eBay. It says that dropshipping, where you fulfill orders directly from a wholesaler supplier, is allowed on eBay." The Dropship Academy
Therefore, their main requirement is to use wholesalers as suppliers (those who provide a product and ship it to your buyer).
For better understanding, wholesalers are companies or individuals that purchase great quantities of products from manufacturers, farmers, other producers, vendors, store them in their warehouses, then sell them to retailers, shops or businesses. Usually, they sell products in big quantities unlike retailers (such as Amazon, Walmart, wayfair, etc.). However, there are some modern wholesalers who sell in small quantities as well. For example, CJDropshipping, Chinabrands, Costco, Bangalla, Gogomall, etc.
Only if you will comply with this requirement, your selling account on eBay for dropshipping will be safe. Otherwise, you can face a range of consequences: starting with eBay ending or canceling your listings, hiding them from search results to lowering seller rating, and even account suspension.
That's why, if you ask for opinions about eBay dropshipping, many would say that they tried it and got their eBay account restricted, flagged, suspended, etc. Such situations happen only if you do not follow eBay dropshipping policy.
Besides, take in account that their policy is relatively new (from 2019). Before it was updated, dropshippers actively used such big retail suppliers like Amazon, Walmart, etc. for dropshipping on eBay. Since they are retailers and eBay policies don't allow using them anymore, these dropshippers met the above-mentioned consequences.
Well, now when the eBay rules about dropshipping are clear, let's check how difficult it is to start dropshipping on eBay.
Is it difficult to start eBay dropshipping?
As you already know, eBay dropshipping is just one of the types of dropshipping. Other types vary depending on eCommerce platforms, local or international suppliers, etc. For example, there are Shopify, Amazon, Wayfair, Etsy, Facebook dropshipping, etc.
Nevertheless, eBay dropshipping is considered to be one of the easiest for beginners. Here are a few reasons why:
It's easy and quick to start.
In order to start dropshipping on eBay, you need to create a selling account there and open a Paypal business account. It's possible to do in a matter of 15-30 mins. It's not so difficult and looks like the usual process of creating an account on a website. Moreover, there are lots of detailed instructions on the internet.
No technical skills are needed.
Ebay is a well-known marketplace with its functional website. It simplifies the work of dropshippers. They don't need to build a website, be worried about its technical side, SEO, hire a developer, etc. Dropshippers use the already built and already popular platform to sell their products on it. That's it. For example, Shopify dropshippers are not that lucky. They need to know how to build a website, how to code, how to design a webpage, etc., or hire someone who would do it for them.
No advertisement budget is needed.
eBay is the 2nd biggest eCommerce platform in the world that already counts with more than 183 millions of users. It's on their side to work on marketing and bringing traffic to their site and your future online store there. However, eBay dropshippers need to follow eBay SEO if they want to get to the first search pages on this marketplace and get more potential buyers.
No inventory is needed.
When you are sourcing products on eBay, you don't need to hold the inventory by yourself (like, for example, Amazon dropshippers do). It means you don't need to purchase items beforehand and store them in your house or rented warehouse. You just need to follow eBay policy and dropship from the wholesale suppliers (who will do it for you).
There are tools and software which help to automate as much dropshipping on eBay as possible.
eBay dropshipping isn't a new phenomena in eCommerce. So many helpful tools and software already exist to help beginners to start their journey with dropshipping and simplify their routine tasks. For example, DSMTool is one such dropshipping tool. Dropshippers use it to list on eBay fast, monitor and sync their inventory stock, optimize their listings, and process orders.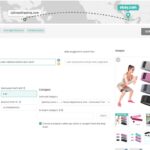 The downsides of eBay dropshipping
It's also a good idea to know what difficulties you can experience in dropshipping on eBay. Here are some of its downsides:
Big competition. When you start dropshipping there, you will find a big competition from dropshippers and also official stores of many brands and retailers. However, if you pick unique or trendy items to sell or cheaper price than your competitors offer for it, and optimize listings for eBay search engines, you still have chances to get a sale. Selling the right products matters a lot on eBay, together with the good selling reputation. You can build it by offering great customer service, providing the truthful information about your products and shipping times, etc.
It's difficult to scale a dropshipping business. It's difficult, but it's possible. Although, it requires a lot of experience and knowledge about the listing and store optimization in addition to good customer service and eBay SEO. Besides, it takes some time to increase the selling limits. Good news: you can learn it while doing dropshipping. Bad news: it's not a matter of a few days.

Low profit margins. In order to get sales, you would need to set such a price that will cover eBay fees, taxes, some other expenses and that will not be the same or cheaper than your competitors offer. Profit potential here can be lower than, for example, in Shopify or Amazon.
---
As you can see, dropshipping on eBay doesn't require big investments, marketing campaigns, deep design and analytics knowledge, and much time. It's not so difficult, and it's allowed by eBay policies if you follow their requirements. It makes eBay dropshipping a quick way to get into eCommerce and dropshipping.
Additionally, it allows you to learn the basics to be able to scale your online business later and, perhaps, open more dropshipping stores on other platforms.
About the Author: Diana Velyka is a part of the content team of the Dropship Academy where she focuses mainly on dropshipping research to help global entrepreneurs start and grow their online businesses.