8 Apr 2021
Leveraging Hashtags to Promote Products on Instagram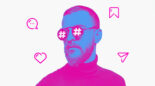 Chris Messina is widely credited for being the creator of hashtags by proposing their use in a 2007 tweet. While initially looked upon as a thing only suited for nerds, they quickly became popular through their widespread use throughout many social media platforms.
Today, hashtags are commonly used on many user-generated content websites and popular social media platforms, including Facebook, Instagram, and Twitter. According to a recent study by Compare Camp, tweets with hashtags can increase engagement up to 100% for individuals and 50% for brands. However, tweets that use more than two hashtags experience a 17% drop in engagement.
On Instagram, using at least one hashtag can help you get 29% more interactions for profiles with 1,000 or fewer followers. Furthermore, longer hashtags outperform shorter ones, with 7/10 hashtags on Instagram are branded hashtags. Optimal length is between 21 and 24 characters on Instagram, and on Facebook, hashtags with 10+ characters up to 20 performed fairly well .
Also, on Facebook, the user is encouraged to use the "less is more" approach for hashtags.
Hashtags for TikTok are also quite popular. This social media platform limits captions to only 100 characters. The best tactic is to use as many hashtags as you can and to keep captions short and sweet. The absolute minimum is three characters per hashtag, and this means you can practically enter 33 hashtags in a caption.
Now let's take a look at how businesses can leverage hashtags to promote themselves on Instagram.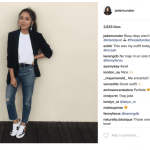 Branded hashtags are the easiest to understand. They spell out your brand's name in full or in some creative variation using the octothorpe (#), also known as the hash, number, or pound sign. They are used to create awareness about your brand. People who are interested in your brand can also use branded hashtags to find out what you have been doing recently and what activities your brand is currently conducting.
Branded hashtags, in this sense, are great for building engagement and interactions with prospects and clients. Even those who are not familiar with your venture can use branded hashtags to learn more about your establishment and much more.
Community and Industry Specific Hashtags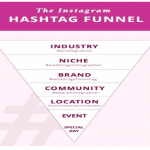 Community hashtags garner a greater audience as your brand is a part of an industry where loads of other ventures exist, including business partners, competitors, intermediaries, suppliers, and vendors.
Since industry expands well beyond your brand, in that sense, industry-specific brands attract a greater number of audience as they are far more relative than niche or location-based hashtags for many users at a time.
For example, if you are operating in the apparel industry, then #fashiontrends2021 would be relevant for many audiences than your branded hashtags.
Current Event or Festivity Focused Hashtags
Another great variant for hashtags is those that relate to festivity, important events, and special days of the calendar. You can create hashtags for every particular day to harvest greater engagements with audiences.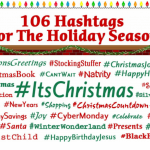 These hashtags can include Christmas, Easter, Thanksgiving, Black Friday, Cyber Monday, Valentine's Day, and Chinese New Year, to name a few. Therefore no matter where you are and whatever culture dominates your locality, you can create and use hashtags to bring people closer and promote your business offerings on those special days.
Some great examples include:
#WishesDelivered – used by UPS during Christmas. Customers upload their holiday wishes using the hashtag, and some of their wishes come true. For every wish uploaded, UPS donates $1 to charity up to a maximum of $100,000. This resulted in 40,000 hashtag mentions, 80+ PR stories published, and over 3.5 million video views.
#Thanksgiving – used by Hot Wheels showcasing a toy muscle car on top of a traditional Thanksgiving pumpkin pie with whipped cream smoke behind the car for additional effect. This resulted in over 37,000 likes and around 500 comments.
Humor & Innuendo Hashtags
Humor is the ability to see the lighter side of things. Plus, using humor in your post is a great way to connect with people within a community.
Brands often use humor to create a friendly impact with their customers and clients. It allows them to break the ice and adopt a more familiar approach that brings prospects and candidates towards their brand. Some of the common examples include #yolo, #mom, #hahaha, #dadjokes, #memes, etc.
To create humorous tags use wordmashing, try word endings and suffixes like -ish and -ly, refer to famous jokes and events. Here are some good examples:
#DontKillSeanBean – used by TNT when actor Sean Bean was slated to appear in the show Legends. Sean Bean is known for appearing in a cult classic like (spoiler alert!) the Lord of the Rings and Game of Thrones for dying almost instantly.
#CaughtOnDropCam – used by Nest Security System where users were encouraged to share hilarious videos of hysterical family moments and animals gone wild.
Location-based Hashtags
Location-based hashtags are the best when you want to increase awareness for your local community's brands and business, or launch a new product or a discount offer based on location. This can help you to connect with people living in that locality.
For instance, if a person is living in New York City and wants to know about events happening around the city, all they need to do is search #NewYorkCity or #NYC. This will help to see posts that include New York City in their mention.
Location-based hashtags are indeed quite valuable, and as a brand, you should consider using them often. For example, if your brand is conducting an event at a local city center, then using location-based hashtags can help increase awareness about your local event and increase foot traffic.
Or you can just market your brand or product using your own shop location in the hashtags.
Moreover, you can conduct online events, host a video on Facebook, or go live on Instagram. Use location or time hashtags to promote your online event. Here's the example of using location-based hashtag:
Product or Service Centric Hashtags
Product or service hashtags are essential because you want your targeted audiences to be familiarized with your offerings. Here the emphasis is more on the product itself than on a brand name. These hashtags reach out to a greater audience who might not be aware of the brand, but do have a need for a particular product or service.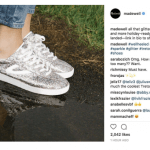 Furthermore, you can use this opportunity to discuss the great features your product or service is imbued with, such as benefits and how they can help resolve users' pain points.
Rival and Competitor Hashtags
Having a keen observation of your competitors and using hashtags to enhance interactions and build engagement with their client base is also a good strategy. You can simply look at their recent social media posts and the hashtags used by them, at their engagement with audiences and how effective those hashtags were in helping your rivals interact with audiences. You can try out a similar rendition of those hashtags for your own campaigns as well.
Also, analyze the time and day your competitors are having good engagement rates. Use your analysis and post accordingly.
Trend Supported Hashtags
Trendy hashtags depend on the current movement that is creating the most buzz and gathering the most hype.
This could include a recent social movement that has resurfaced, like 'Black Lives Matter'. Or any other important concern and issue that quickly gathers people and unites them to stand up for a cause. In order to keep yourself updated with the trendy hashtags, Twitter can play a vital role, where you can look for the latest trends. Moreover, make it a habit to read news daily in the morning, it will keep you updated with the trending stuff.
Let's see how different brands used such hashtags to engage their audience.
Yorkshire Tea, on June 8, 2020, used #BlackLivesMatter and requested consumers not to buy their tea again as they are taking time to educate themselves and plan proper action.
Twitter Together, on May 29, 2020, used #BlackLivesMatter in their post that was titled "Racism does not adhere to social distancing".
The official Instagram account of Instagram used #ShareBlackStories in their post, where Facebook pledged $10 million to efforts committed to ending racial injustice.
User Targeted Hashtags
User targeted hashtags can include a wide variety of personality traits and character qualities that you want to target in customers.
For example, Coca-Cola, with their marketing strategy "Open Happiness", wants to pursue qualities that make people happy or encourage those who overcome an adverse or challenging situation, but there is always a happy ending in the end.
Another campaign, #ShareaCoke, was launched in 2011, where people would find a bottle with their name on it and then share it with their friends.
For Nike, on the other hand, it is all about "Just Do It!" They want to chase after people who are athletic, ambitious to win, and realize their goals and make them come true.
Know your targeted audiences, their interests, lifestyles, and overall demographics. Watch the influencers your target audience might like. Search for relevant hashtags and explore their popularity, trends, correlations, and top influencers.
The DON'TS of Using Hashtags
Here are some things you should definitely avoid and be wary of when using hashtags for your Instagram account:
Using too many hashtags in a single post. It will look like spam.
Putting hashtags in between sentences without context. This can annoy or distract people.
Using hashtags specifically to increase followers, e.g., #followforfollow, #likeforlike, #l4l, etc.
Not researching hashtags for your specific niche.
Using irrelevant hashtags or creating new hashtags for every post.
Copying your competitor's hashtags exactly without giving your own spin on them.
Using hashtags that contain jargons, industry-specific keywords.
Not creating and using your own hashtags for content that you regularly share.
Caution is advised, especially for Instagram, where the platform doesn't allow the use of more than 30 hashtags. The best practice, however, for using hashtags on Instagram is not more than 11. This should give you room to include enough variety of hashtags, including the types we have mentioned above.
---
Author: Stella Lincoln, currently works as an Assistant Editor at Crowd Writer. This is where higher education students can acquire dissertation editing services UK and buy coursework online from experts specializing in their field of study.