26 Oct 2021
WhatsApp advertising: launching a newsletter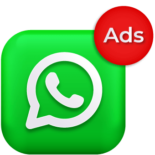 WhatsApp is a messenger actively used by 2 billion people in 180 countries. It has already outperformed other similar services, such as Telegram and Facebook Messenger, in terms of its audience size. Eventually, WhatsApp's popularity and user activity have made it a great ad space. Today's article is devoted to an efficient ad format in WhatsApp: newsletters.
WhatsApp's functionality is intuitive and straightforward. However, advertisers and publishers often make common mistakes when trying to create newsletters. To help you avoid them, we'll discuss the specifics and rules of creating and maintaining newsletters in this messenger.
What is a WhatsApp newsletter
A WhatsApp newsletter is a process of sending messages to users in a created database. You can message either existing or potential clients, but only if you have their phone numbers. Let's discuss the difficulties you may face when creating a newsletter.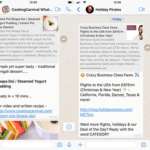 Most marketers assume that a newsletter is a one-way road: you direct-message a large group of users and wait until they come buy your product. But actually, ads in the messengers aren't just supposed to promote a product or service; they're also supposed to establish trust-based, long-term relations with the newsletter's recipients, who are representatives of the target audience.
To make sure a user perceives an ad or informational message correctly, use a channel your client is familiar with. As we've already mentioned, WhatsApp is popular, which means it's effective.
It's worth considering that WhatsApp's ease of use for personal reasons may create the false impression that we know all of the messenger's ins and outs. But a marketing newsletter is way more nuanced than a back-and-forth in chats.
Benefits of WhatsApp newsletters:
Low cost per message. A WhatsApp message is by far cheaper than a text message, not to mention targeted ads.
You can both draw attention and boost the loyalty of a significant part of your target audience. Mass messaging is usually employed for user bases with 1,000 or more people.
Messages immediately attract users' attention, especially if they wear a smartwatch. Statistically, WhatsApp users check their chats more often than they do their email inboxes. An average user checks new messages in WhatsApp 23 times a day and spends nearly 200 minutes chatting.
Unlike email, WhatsApp newsletters almost never land in spam. It may only happen if the recipient has blocked you, which is unlikely if you treat your clients respectfully.
It's easy to add images or videos to text. iChimp reports that at least 700 million images are sent via WhatsApp every day.
Each of these advantages comes with great responsibility. Remember that a WhatsApp message is at the center of the user's attention, and you don't want to abuse it. Otherwise, you'll get quickly blocked even if your ad is totally relevant to the user's interests. Be sure to create any newsletter tactfully. We'll tell you how.
How to conduct a WhatsApp newsletter
A number of factors shape the performance of WhatsApp ads. The three central determinants are the who (who your recipient is), when (when you send your message), and what (what you write).
Who your recipient is
The primary goal for a WhatsApp newsletter is to convey relevant information to a certain, interested group of people. Sending everything to everyone won't do: having too broad an audience won't pay off.
WhatsApp doesn't allow mass messages to be sent to unknown numbers, so you have to form your client base first. Here are a few tips for creating a loyal customer base:
Never buy bases that are widely available on the web. In most cases, they contain fake numbers. And, more importantly, since people in these bases aren't interested in your product, they'll send your message to spam right away.
Use legal methods to compile your base. Install a widget or subscription form on your website, invite people to subscribe for a discount, bonuses, or unique content. Host contests like "leave your phone number, and we'll decide a winner randomly." Also, once a new customer registers on the website or interacts with you in any other way, show the box "I want to receive news via WhatsApp."
Make sure your contact base only contains phone numbers of clients who gave their written consent to receiving ads by clicking checking the box in the corresponding electronic form. Read our text explaining how to handle the privacy policy. It's a big deal.
Put together your contact sheet methodically and systematically in a spreadsheet that you can then export to your account in a newsletter management service. We'll tell you about such tools below.
Verify that your recipients are interested in your offer and have a pain point your product can address. Such users may have gotten advice from you, visited your website, or are potential customers.
When to send your message
Keep things balanced when scheduling your messages. They shouldn't be sent too often: that may be annoying. But they also shouldn't be sent too infrequently if you don't want to be forgotten. Engineer an advertising strategy that will help engage a user and steer them step-by-step to making a purchase.
Optimal intervals between messages:
You want to send your newsletter no more than once a week. Remember that your goal is to convey your unique selling proposition to potential customers and let them make a decision whether or not to make a purchase. But if you keep irritating them with ad messages, it's very likely you'll get blocked.
If your newsletter is just a friendly reminder, you're free to determine the frequency at which you send messages. Again, if you go too far (i.e., too often), user loyalty for your product or brand may decline, and users may even blacklist you. For example, you can send a reminder 3 days before the deal ends and another one a day before it wraps up.
Informational messages don't have to be sent every day. Design a content plan based on your target audience's preferences and behavioral traits. Go with the "one in 3 days" schedule or turn up the frequency a bit, depending on the purposes of your newsletter and current marketing activities.
When should you send offers? Only when it's convenient for your customers.
The optimal way is to send newsletters during working hours when your target users are online. Evenings and weekends aren't the best options because people are taking it easy and may not check their messenger. But if you're sure your coffee or nighttime copywriter course is for night owls only, try messaging at a later time.
It's imperative that you know your target audience and understand when they're online and when they respond better to the newsletter. In addition to that, there are lots of studies available online on the best time for sending ad messages.
What to write
Now that we know when to get in touch, we need to figure out what to come with. There are seven key types of messages.
Reminders. These messages just notify users about previously agreed-upon actions, e.g., a beauty studio appointment or monthly payments. Helpful reminders can make your newsletter valuable to the user, and they'll want to engage you again.
Information. Your business hours may have changed, or you may have relocated. You may have new products or bonuses available or are holding a promotion or contest. In all of these cases, you'll want to keep your customers in the loop.
Notifications. These include upcoming transactions, order status changes, delivery ETAs, etc.
Congratulations. If you have been working with your customer base for a long time, it may be great to wish them a happy birthday or congratulate them on a wedding anniversary if you helped the newlyweds with floral arrangements. Unobtrusive congratulations on traditional holidays can also be a great excuse to send out messages, even to people you barely know. This is especially true if you throw something on top of your warm wishes, e.g., a discount.
Communication and feedback. WhatsApp allows you to conduct surveys and ask users to leave feedback about products and services.
Help and consultations. You and other users may not always be available by phone, which is why customers ask some questions on WhatsApp.
Helpful content. This may be a digest with relevant articles, collections, lifehacks, and guides. Though such newsletters don't affect your sales directly, they do boost your company's reputation.
Official ads. This could be a branded newsletter to tell users about a seasonal price drop, new products, noteworthy offers, and plans. Such newsletters usually contain materials that promote products, services, or the brand itself.
Newsletter services
For regular mass newsletters, it may be handy to use WhatsApp Business API. Tools like SendPulse and Twilio API can also be helpful companions.
Upload your contact base, design messages, and set the time and date to send newsletters. After you send out your newsletter, you can monitor statistics and determine the number of delivered and read messages.
Newsletters to people in your contacts can be sent directly via the messenger. Click the three vertical dots in the upper right-hand corner, then "New message". This is a free newsletter, albeit not a bulk newsletter, that presents a good option for a small or personalized business.
One more thing
Regular newsletters aren't enough if you want to get results from your WhatsApp marketing activities. All your actions must be part of a consistent strategy toward pursuing a clear goal, such as increasing sales in a specific category or improving brand loyalty.
What scenarios could you use to achieve your goals?
Remarketing. If a user from your base isn't ready to buy, it doesn't mean you should ignore them. They may not have had a reason to buy or may not need the product badly enough right now. Employ remarketing tricks to get the user back to the sales funnel.
To avoid having to segment contacts manually, automate the process by integrating the CRM with end-to-end analytics. Separate out interested users and create different newsletters with different pitches for them.
Engagement. A purchase is not the ultimate point of the customer journey. Once a lead becomes a customer, don't fall out of touch with them. Instead, reach out to them with helpful tips and noteworthy articles or demonstrate your expertise. Such measures are likely to turn your customer into an advocate and spur them to buy from you again.
Top-notch after-sales service. This point flows from the previous one. Be sure to stay connected with your customers and answer their questions about subscriptions, website operation, or products. Send these clients holiday greetings, helpful industry articles, and the benefit of your know-how (provided your audience is properly segmented).
Cross-selling. Tell your buyers about new items, deals, and special offers. This will motivate them to buy more.
Events. Create newsletter chains that will remind users about various events: where an event relevant to the audience will take place, when, and why it's important to be there.
Last but not least, some people believe that WhatsApp may ban an account for bulk newsletters or even apply fines. Don't worry about that. If messages are sent from a business account to known contacts that opted for ads and informational messages, you won't be fined or punished.
You can submit a request to confirm a WhatsApp Business API account here.
---
WhatsApp newsletters are a powerful tool for communicating with existing customers and calling them back for new orders. Expand your customer base and motivate them to buy with a persuasive copy to ensure your campaign's success.