6 Jul 2021
10 Strategies To Promote Positive Customer Reviews For Your Business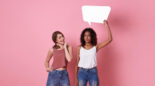 Building a fantastic store and stocking it up with great items is not enough to boost your sales and get more customers in this highly competitive market. Your business needs to brush up on its marketing and social proof generating skills.
Social proof is a powerful tool for businesses that increase sales, boost revenue, and invite colossal traffic at the store. What is social proof and how publishers and advertisers can use it for boosting sales, explains Ricky Hayes, the Co-Founder and Head of Marketing at Debutify — a free Shopify theme, helping dropshippers build high-converting stores.
Social proof refers to a psychological phenomenon where people believe and act according to the actions of the masses, as they assume the action of the mass public as correct behavior. Let us clarify this with an example; a person will buy the product used by most people around him. The number of people using the product made him believe that the product would be excellent; thus, trusted by many people.
Many competent marketers leverage the power of social proof to optimize their sales and attract more prospects. One of the most common ways to generate social proof is by encouraging the customers to review the product or the service of the business on its website or social networking profiles.
One of the biggest benefits of customer reviews is that it compels the prospects to become the brand's customers or turn their backs towards it.
Don't you believe us? Well, the following stats and figures will make you understand:
85% of online buyers trust online reviews like personal recommendations.
60% of consumers found the online reviews trustworthy.
Online buyers expect more than 100 reviews when they search for a product on the internet.
Reviews and testimonials shared by verified consumers increase the prospects' probability of buying by 15%.
We are sure now you understand how imperative it is to encourage your current customers to leave you a good review to promote it on different channels to generate social proof for your business.
So, if you are looking for strategies to promote positive customer reviews for your business, seek no more!
Strategies To Promote Positive Customer Reviews
Create Different Spaces To Leave Reviews
The internet has become a vast space for users to explore. However, your business's website or store shouldn't be the only place where a person learns about your existence and products. If you want to attract more potential customers, provide multiple platforms to your existing customers to share their reviews.
Don't limit the customers to share their feedback and positive reviews on your website. The reviews on the website might compel your prospects to finish placing their orders, but what about the targeted audience who doesn't visit your website? How would they know what people have to say about your products?
Make sure that your brand is being discussed on different platforms and more people learn about you.
Here's how you can do it:
a) Google My Business
Setting up a GMB listing is one of the easiest and highly effective ways to increase your online visibility and attract organic customers. People turn to Google.com for every tiny problem.
If a business is listed on GMB, it will be displayed to the users looking for products you sell. Your business's name, location, and contact details aren't the only things that a person sees; he also gets to read the reviews displayed in the search results for your website.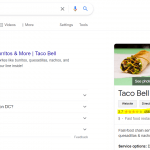 b) Facebook
Another place to provide your existing customers to share their reviews is your official Facebook account. Facebook has 2.85 million active users. So it's a fantastic platform to let your customers talk about you and educate the other prospects about what you are and what you do.
Ensure that you are active on your social profiles to respond to your audience and manage your customers' reviews.
c) Third-party sites
If you sell your products on third-party sites like eBay, AliExpress, Amazon, ensure to claim and customize your business's page.
For example, Amazon displays different results for the entered search query; therefore, your business's story should be the same on your website and Amazon page. In addition, ensure that your page emphasizes the product details and shows the reviews and testimonials shared by the customers.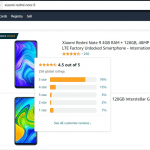 Make It Easy For Them
What would you do if a restaurant delivers piping hot, fresh, and scrumptious food? Would you contact the restaurant immediately to praise the food's quality and its service? Unfortunately, a good majority of people will not reach the restaurant or leave a review if they've had a good experience.
However, what would you do if the restaurant delivers cold and stale food at your doorsteps? Will you forget about it, or would you grab your cellphone to talk to the restaurant manager?
Of course, you would do the latter!
People are less likely to leave a review when they had a good experience with the business. However, if the customer's experience was negative, he'll reach out and complain about your brand on every platform accessible to him.
You have to make it easier for your satisfied and happy customers to provide you with a positive review.
A simple and most effective way is to attach the link to your Facebook page or any other review platform. By simply tapping or clicking on the link, your customers will be saved from extra steps to provide you with their feedback.
If you request the customers to give you a review without providing them with the link, they would have to take the following steps:
Log on to Facebook.com
Lookup for your business's official page
Write a review
These three extra steps might make your customers skip giving reviews. Hence, when you send a follow-up email or display a message on your website requesting a review, always attach a link to the relevant platform.
Request Your Customers To Leave A Review
This is perhaps the most overlooked tip when it comes to getting positive customer reviews. If you want your customers to review your product, all you have to do is just ask!
Pretty simple, right? And trust us, it works well too! Asking your customers for review will not belittle your brand, nor will it make you appear weird to your customers.
Many huge eCommerce sites ask their customers to review the products they have purchased from their website. For instance, Etsy, a popular shopping website, sent a text message or follow-up email to their customers and requested them to review their purchases. As a result, around 25% of the buyers reviewed the products.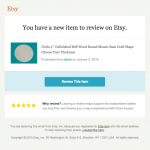 Moreover, Etsy gives a margin of 100 days to its customers to review the products. Thus, it enables the customers to use the product properly before sharing their reviews. When customers take the appropriate time to use the products before reviewing, it increases the credibility and authenticity of the review. It, in turn, helps the prospects to place their trust in the brand.
However, make sure that you request your customer and not force them to leave a review on your website on the spot. It will irritate your customer, and he might leave a review, just not a positive one!
Offer Incentive For Writing Reviews
Just as your time is precious for you, your customers' time is priceless too. Customers do not come to your website to leave a review; instead, they come to grab their desired articles and exit the website. Therefore, if you want them to stay and review your products, you must have a good reason to entice them to stay.
Offering them incentives in return for their reviews is the perfect way to make them stay. You have to entice your customers to leave a review for a gift, voucher, or entry into a lucky draw, etc.
You can offer a discount voucher or gift to customers who leave a review on your website, irrespective of the nature of the review. This way, the customers who have no intention of leaving a review will take a minute to provide an honest review of your products and services to avail of the incentives you have offered on your website.
Respond To Reviews
When a customer has been kind enough to take out a few minutes from his time to review your brand, make sure that you acknowledge it. When customers share their reviews, both positive and negative, they want them to be read by the brand and the other prospects.
Always, we repeat, always respond to your customers. For example, if the customer has praised your products, or is drooling over your fast shipping service, extend your gratitude to them and inform them that you are looking forward to serving them again. A little acknowledgment or a simple thank you makes the customer feel valued and encourages him to leave more reviews as they are noticed and responded to by the brand.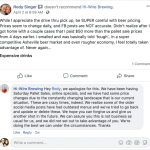 Do the same with the customers who are a little disappointed with your products and services. Be polite and respond professionally to negative reviews. If the customer has complaints about the products, provide him with a feasible solution. By helping the customer, you might make him change his negative review into a positive.
Train Your Employees
If your business is run and managed by a big team, ensure to emphasize the importance of positive customer reviews to every member.
Train your employees to politely and professionally ask the customers to leave a review of their shopping experience. The sales rep team is the closest to the customers; they should do everything in their authority to give a fantastic experience to the customers to earn a positive review from them.
Moreover, the employees can guide the customers about the platform to leave a review for the business.
Use Surveys
Not all customers will be willing to write a long and heartwarming review for your brand. Or perhaps, the customers are not good with using social networking or other platforms to leave a review.
You should use surveys to save the customers' time and take the responses from them. With the help of surveys, you can ask them the right and insightful questions that can help you to collect valuable information from them.
Do not add hundreds of questions, or else you will scare your customers away. Instead, limit yourself to short and straightforward questions. Then, provide the options to select from. You can also use stars on questions that require rating your service or product quality, etc.
In addition, your surveys should always be responsive to mobile devices. If the survey fails to load or function well on mobile screens, the customer will exit it instantly.
Use Pictures
Many times internet users do not trust online reviews. They believe them to be paid or electronically created to generate social proof. To make your reviews appear more trustworthy, attach the picture and name of the reviewer.
Looking at the name and picture of the customer with reviews builds credibility and makes the review appear authentic and not fake.
Encourage Storytelling
A review that tells a story works wonders to connect the readers with the customer. For instance, an ice cream parlor can encourage its customers to share their experience in detail and talk about the flavors and ambiance of the place, or do they enjoy hanging out with their friends here or not.
When a customer describes his experience in detail, like the date and day of his visit, the flavors he ordered, the service provided, and the overall ambiance, it helps the prospects understand and learn more about the business.
Run social media contests to encourage your customers to share their stories. Ask your customers to use the hashtags of your business and post their stories with your product or service, and get a chance to win exciting gifts.
Locate The Reviews Strategically
If your customers have given you positive reviews, make sure to place them in an appropriate position so that your visitors can notice them right away.
Place your reviews on the homepage and preferably in the center. If customers have reviewed specific products on your website, place them next to that product to make it noticeable to the visitors.
Moreover, you can create a separate page on your website to list your customers' reviews. Make sure to add the link to that page in your main menu.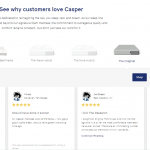 ---
The more customers leave reviews and testimonials, the more trustworthy and credible business appears to the targeted audience. Reviews and testimonials help the prospects to trust the business and become its customer. Remember, your customers might not be interested in leaving a review; hence, ask for it.